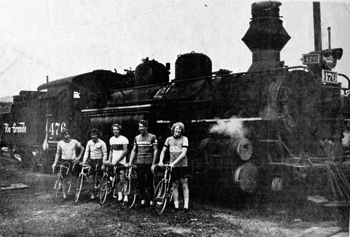 History of the Iron Horse in Durango, Colorado The Origins of the Iron Horse
Brothers Tom and Jim Mayer concocted the idea behind the first Iron Horse Bicycle Classic. Jim worked as a brakeman on the Denver & Rio Grande Western Railroad, which had operated the steam-powered line between Durango and Silverton since the 1880s. Tom was a young bicycling enthusiast who enjoyed riding alongside the railroad tracks.
One day in 1971, Tom challenged his older brother to a race to Silverton. Steam engine versus bicycle. They wagered a candy bar on the results.
When Jim pulled into the Silverton station, there was Tom, waiting for him. He'd beaten the train, despite having a longer road and having to climb two mountain passes. He won his candy bar, alright, and he had no idea that he had just started a famous race that would draw thousands of riders to southwest Colorado.
You can read more about the story of the Iron Horse by visiting Tom Mayer's website here: http://abundantadventures.com/IronHorse/IronHorseClassicOrigin.html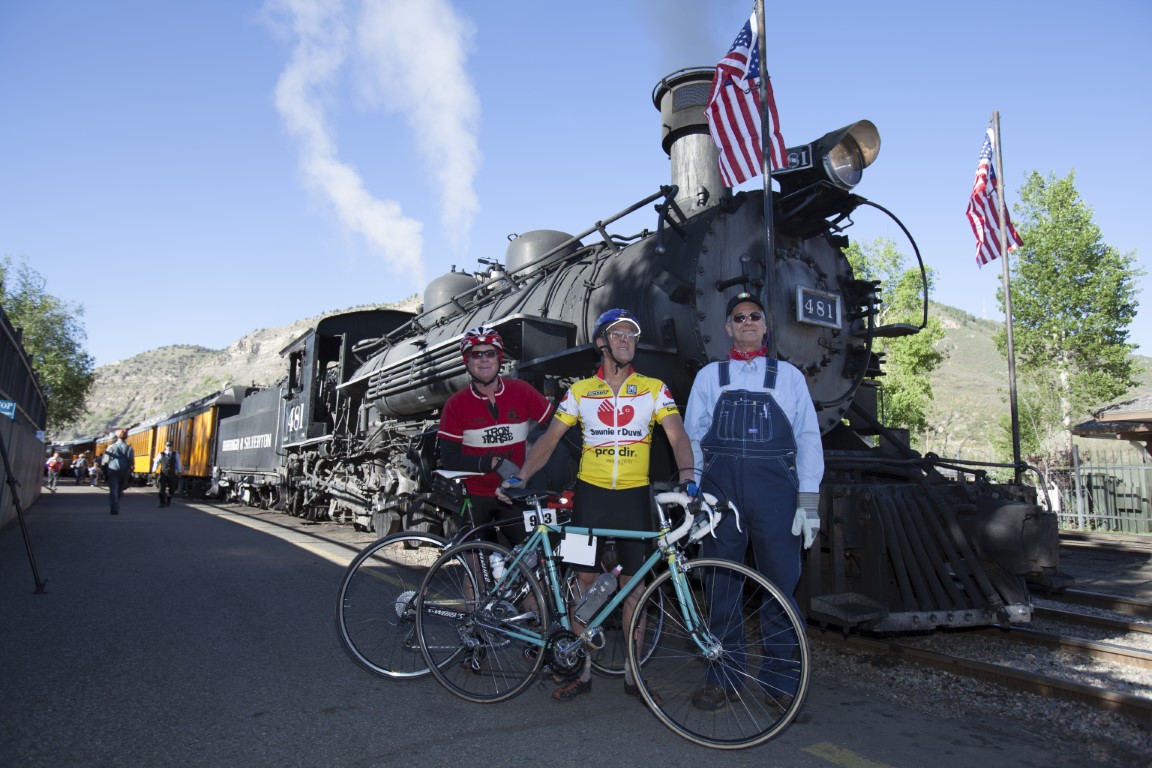 The First Iron Horse Bicycle Classic
Tom decided the best way to get others to try his favorite ride was to start a race. So in 1972, a group of 36 riders celebrated the train's first run of the spring by accepting his challenge. Five of them managed to beat the train to Silverton, and it's been all uphill since then.
For the last half-century, the Iron Horse has become one of the premier bicycle events in the West. Durango is centrally located between Denver, Albuquerque, Phoenix, and Salt Lake City.
Now, riders travel to the Iron Horse from every state and several foreign countries. Each year, thousands of riders experience the thrill of descending into Silverton with hopes of beating the train. And whatever the results, simply finishing this classic ride is an accomplishment that keeps people coming back year after year to one of the best rides around.
Growth of the Iron Horse
Throughout the years, several events have been added to the traditional ride to Silverton. We now host Quarter Horse and Pedal Assist Quarter Horse rides to Purgatory, the Mountain Bike Race, the Kids Race, the BMX Straight Rhythm, and the La Strada La Plata Gravel Ride. We have events for professional racers and everyday enthusiasts. Memorial Day weekend in Durango is always full of cycling events and festivities. In 2018, we welcomed more than 3800 participants across all events, and we're constantly evolving to welcome new styles of riding.
Come ride with us, and take part in this inclusive and exciting adventure we call the Iron Horse!